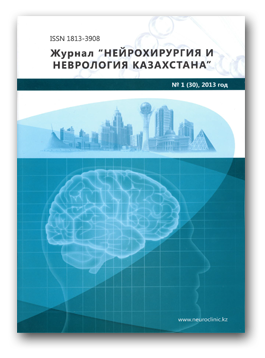 The Editorial Policy of the Journal Neurosurgery and Neurology of Kazakhstan (JNNK)
The Journal Neurosurgery and Neurology of Kazakhstan was founded in 2004. It is a research and informational-analytical publication in the field of neurosurgery, neurology and related disciplines. The journal is registered by the Ministry of Culture and Information of the Republic of Kazakhstan, the Committee of Information and Archives (registered by periodical and (or) news agency registration № 10442-Ж on October 30, 2009).
Founder of the journal is JSC "National Centre for Neurosurgery", under the control of the NGO "Kazakh Association of Neurosurgeons".
Published 4 times a year.
Territory of its distribution is the Republic of Kazakhstan.
Themes materials combines both theoretical and practical orientation.
    Goals and objectives of the journal
To give scientists and health practitioners possibility to publish results of their research.
To invite attention to the most relevant and perspective areas of neurosurgery, neurology and related disciplines.
The Journal Neurosurgery and Neurology of Kazakhstan is a project opened for all interested individuals and organizations.
   Basic principles
By submitting an article, the author agrees that the copyright for the article devolves on the publisher in case of its acceptance for publication.
Copyrights include the exclusive right to copy, distribute (including reprints, photographs, microforms or any other reproductions of a similar nature), translation of the article as well. In case of reprint the reference to the journal is required.
Editorial office issues articles in accordance with the requirements of scientific literature publication.
   Review of all income manuscripts
According to the review, the editorial board may accept the article for publication, make recommendations for the author to modify the article or may reject it.
Authors are responsible for the materials and data in their articles. 
Published in the journal materials reflect the personal views of the authors and may differ from the point of view of the publisher.
The Editorial office has the right to reject articles which are improperly designed or unrelated to the subject of the journal.
The editors reserve the right to make editorial changes and the reduction of the manuscript.
Accepted manuscripts will not be returned. 
Reprint, publication or distribution of published and / or posted materials on the official website of the journal without the prior written consent of the Editorial office of the journal is not allowed. Infringement of the exclusive rights of the Editorial office to use materials submitted for publication and edited by the Editorial office will be prosecuted.
The Editorial office accepts articles for publication which were not previously released and / or adopted in other publications.
Advertisers are responsible for the accuracy of advertising publications.
Basic theme of the journal is a neurosurgery and neurology, revision also considers articles on all areas of neuroscience and related disciplines.
 The main sections of the journal:
   - Peer-Reviewed Articles,
   - Case Reports,
   - Literature Reviews.